Playground
The two-storey playground has an area of 170 square meters. There is a trampoline section with large classic trampolines and also two tilted trampolines. There are also 3 ball pools, where in one pool you will find a volcano that spews balls into the air. 
The second part of the playground contains two-storey climbing frames with a slide, a rotating cylinder, a suspension bridge and bags for running. In addition to the crawling zone, you will also find painting or a lot of toys. Parents can go to the playground and supervise their children.
 Basic information
open according to opening hours
 Monday to Thursday
      Child up to 13 years old – CZK 160 (*)
      Adults - 60CZK (*)
 Friday to Sunday, public holidays
      Child up to 13 years old – CZK 190 (*)
      Adults - 70CZK (*)
The prices are for one entry. Upon leaving the restaurant and subsequent return, the entrance fee is no longer valid
* Up-CLUB members with their own club card have a 30% discount
 Free wifi
snacks in the restaurant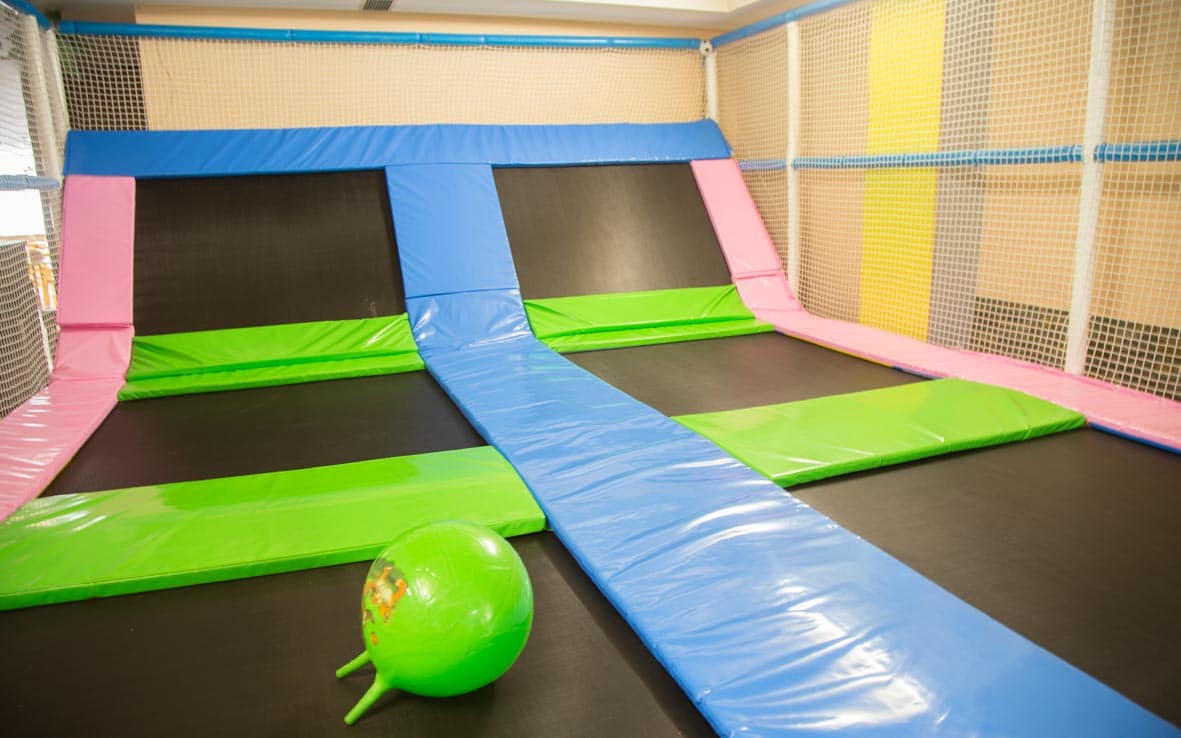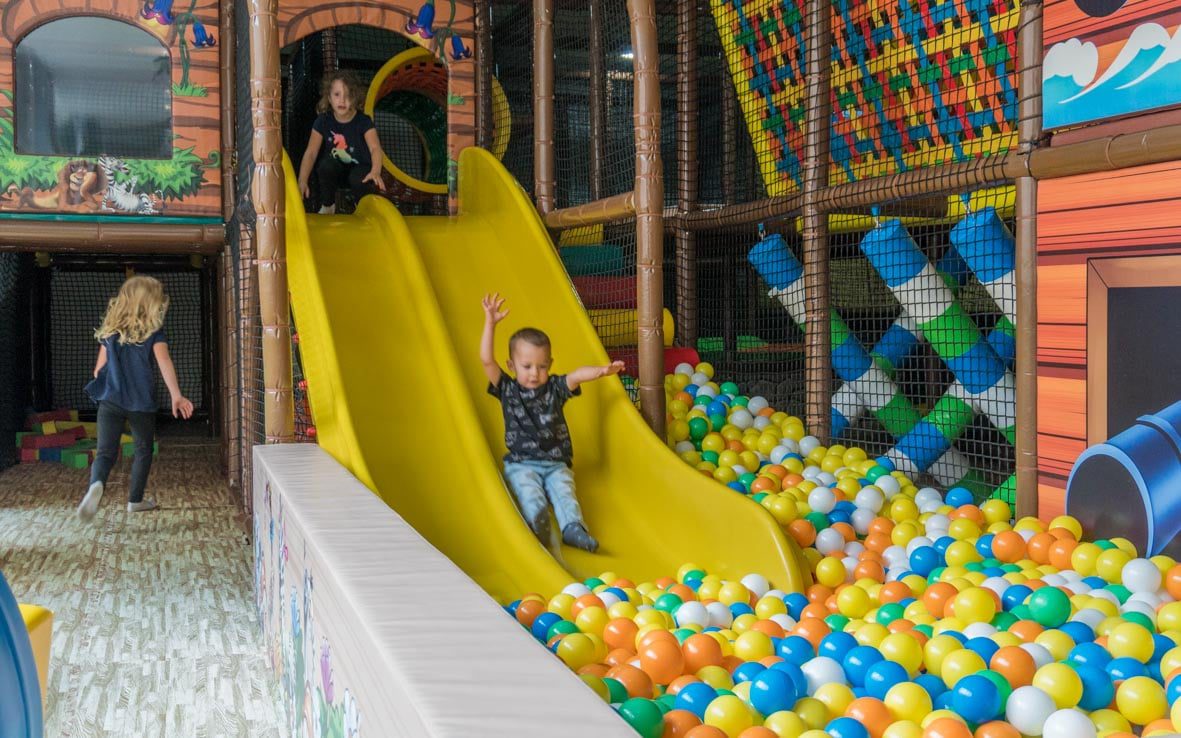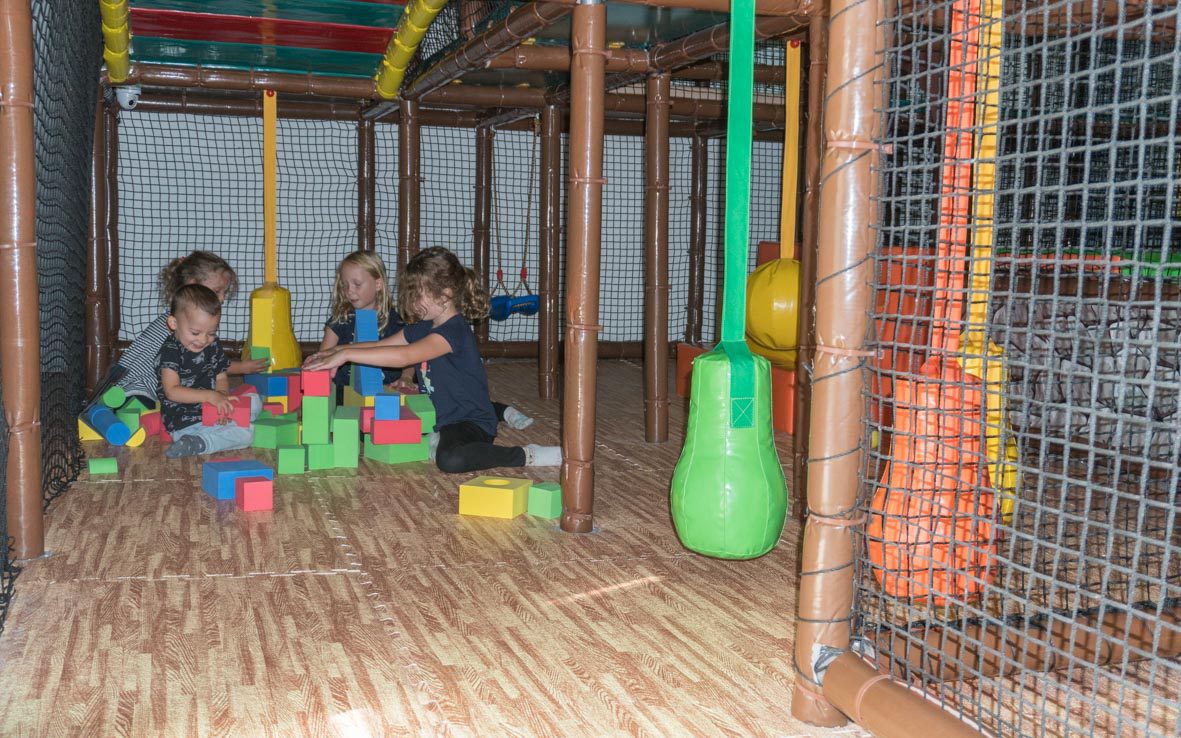 Do you want to be a member of Up CLUB?
If you would like to get better prices and other benefits that are part of the Up CLUB, all you have to do is apply for a membership card at the box office of any of our Up stores. All you have to do is fill in the form, we will issue you the card and it will be ready for collection at the establishment of your choice within 3 working days.
Are you planning a children's party?
Olympland is a great place for children's parties. Arrange a reservation with the restaurant staff. If you are interested, we will be happy to make you a festive board and a banquet. Up OLYMP also includes our own patisserie, so we can make special fresh birthday cakes according to your wishes.
Would you like to go to a children's corner with a kindergarten or school?
We offer special morning prices for kindergartens and schools. If you are interested, please contact a sales representative on tel: 605 220 277, who will tell you the details and agree on future cooperation.
Operating Rules
Rules in brief
(detailed rules are given here)
The operator does not assume the obligation associated with the supervision of children. The care and supervision of children is the responsibility of their entourage only.
Parents are obliged to acquaint their children with the Operating Rules in a manner appropriate to the child's age.
For operational and hygienic reasons, entry to the games room is only allowed in socks.
We draw your attention to the dangers that can arise from the laces of T-shirts and sweatshirts. Beware of sharp and hard objects, staples, pendants, glasses, etc.
Prohibition of bringing food and drinks, as well as chewing throughout the game room.
Individual trampolines can only be used by one person at a time. SALT ARE STRICTLY PROHIBITED.
Children up to 60 kg and 170 cm are allowed on the trampolines, climbing and hanging on internal and external nets and structures is prohibited.
The play corner for the youngest children is intended for children under 4 years.
The pirate ship is intended for children from 3 to 12 years of age, but up to a maximum height of 140 cm.
No entry with animals.
Please understand and be helpful in resolving any conflicts between children.
Special care must be taken with younger children.
Children and adults accompanied by an acute infectious disease are strictly forbidden to enter the playroom.
For safety and hygienic reasons, the pram is strictly forbidden to enter the playing area.
The child's entry into the playroom is charged on the basis of the valid price list listed on the website www.olympland.cz
Book a restaurant or a bowling alley
Bowling reservations are required through the reservation system - not the contact form.